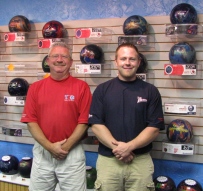 Our Mission

B&B Bowling Services is committed to the sport of bowling and to helping our customers get the most out of their experience.

Our History

B&B Bowling Services originally opened in 2001 as Bowling Unlimited Pro Shop in order to realize the vision and dedication to improving the sport of bowling by it's owner, Dennis Babler.

With over 20 years of experience in and around the bowling industry, including working with PBA Champion Mike Shady of Erie, PA, it was always a desire of Denny's to open a shop of his own. Starting in a small space in a local strip mall , the customer base and demand for more products and services began to grow. This drove a major restructure and insight to the Business in 2009 with the addition of Denny's son Ryan as part owner of the Business. To reflect these changes, it was decided a name change was warranted. With that, we welcome you to B&B Bowling Services.

Growing from a small shop with fewer than 20 high performance balls and a small accessory offering, B&B Bowling Services now carries a full compliment from some of the biggest names in the industry. We carry the entire line of equipment from the Ebonite International family to Storm, Roto Grip, Brunswick, DV8, Radical and Motiv balls. Dexter and Brunswick shoes, bags by all the top manufactures, as well as accessories from Robby's, Master. We use Turbo-Grip Products including Switch Grip Thumbs and Fingers to offer a complete experience for anyone from the youngest of kids to the most experienced tournament or league bowler.

We are a member of IBPSIA, the International Bowling Pro Shop and Instructors Association so stop by or call to help bring your game to the next level.

Owners Dennis and Ryan look forward to helping you with all of your bowling needs.

---